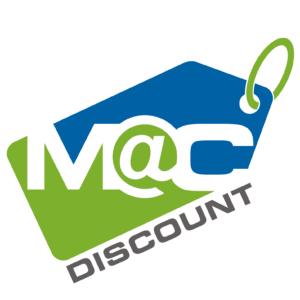 M@C Discount is a local online bidding platform where users from Spartanburg and surrounding areas can place bids on the items that pique their interest; and, just like eBay, the highest bidder wins. Online auctions take place daily.  Items range from big-ticket electronics, power tools, home décor, exercise equipment, and sporting goods to everyday household and pantry items.
Beginning Monday, April 25, 2022, you can bid on a variety of items through mac.bid that will benefit Mobile Meals of Spartanburg.  The auction ends Monday, May 2, 2022 at 6pm (or 2 minutes after the last bid).
Follow these simple steps to view items and begin bidding:
Download the free app from the app store to your phone or tablet.  You can also go online to bid.
Set up your free account by clicking on the person icon at the bottom right corner of your screen. Enter your email address, hit next and you will be sent a verification code.  Once you enter the code, you can set up your password.
You are now ready to view items and begin bidding!
Click the 3 lines in the top right corner of your screen and select Spartanburg, SC and choose Mobile Meals Service Charity Auction.
Terms and conditions, click here.
Frequently asked questions, click here.
For more information or questions, please contact customer service at mac.bid.